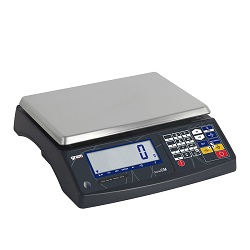 High accuracy, general use table weighing scale

Large stainless steel pan size

Large LCD display with back light: 30mm height

High display Resolution (external): 1/30,000

Parts-counting function

Check weighing with visual and sound indication

Weight accumulation

Optional RS232 data output to connect a PC or a printer

Electronic filter to weigh live animals

Programmable auto-off

Internal rechargeable battery

Ideal for many food, industrial and automotive needs

Large stainless steel pan




Multifunctional keyboard
Specifications
OIML-C3 load cells

Display Resolution (external): 1/30,000

220 x 310mm (Stainless Steel, and 1.0mm in thickness)

Units: kg, g, lb.

RS232 interface (Optional) for PC or Printer

AC 100~240V / rechargeable battery (6 V/ 4 AH)

Function: auto calibration, TARE, Zero, Auto Zero, Print, Auto-off function, LCD display with automatic backlight

Check weighing with visual and sound indication

Parts-counting function

Weight accumulation

Auto-hold function

Electronic filter to weigh animals

Programmable auto-off



STAINLESS steel digital scales body, resistant and easy to clean.

Stainless steel load plate, inspection able and easily cleanable. Dimensions: 250x340mm.

OIML R60 C6 approved aluminum load cells.

Supplied with alibi memory, integrated on the motherboard.

Possibility of connection to one remote scale via serial, or of additional platforms (up to 3).

Backlit graphic display with touch screen technology, lxh= 120x90mm size. Screens completely customizable.

3-colors control light.

Waterproof keyboard and multifunctional programme.

IP44 protection.

Non-slip adjustable feet.

Ergonomic lateral handle.

Level positioned under the plate.

Serial port RS232 for connection to PC or printer.

Digital scale power supply: internal rechargeable battery (operating time 40h approximately) or external power supply/battery charger.

TPRP integrated printer in KST6P and KST30P versions.
DIGITAL SCALES: I/O SECTION
2 Serial ports RS232, for connection to printer, PC or PLC, radio module and optional interfaces.

1 Serial ports RS232 (RS485 optional), for connection to repeater, remote scale, badge reader or digital load cell.

Fitted with keyboard emulation input, for connection to barcode/badge reader or PC external keyboard, through cable with mini DIN connector (optional).

4 opto-isolated outputs (optional).

2 opto-isolated inputs (optional).

External Profibus interface (optional), for automation management.

Modbus RTU interface.

Optional Bluetooth connection, for wireless rapid archive configuration by PC, tablet or smartphone.