The Analytical balance is a precision balance used for accurate scientific measurements. Found in industries such as pharmaceutical, chemistry, and quality control, this advanced weigher ensures reliable results.
Petra Mechatronics is the supplier of analytical balance in Dubai, Abu Dhabi, and UAE Northern Emirates Sharjah, Ajman, and Ras Al Khaimah.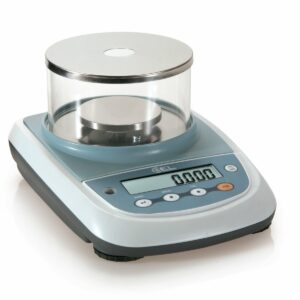 Analytical balance uses:
Pharmaceutical Research: Precise weighing of ingredients and formulations.
Chemical Analysis: Accurate measurement in various chemical applications.
Quality Control: Ensuring product consistency and adherence to specifications.
Environmental Testing: Measuring pollutants and contaminants in samples.
Research Institutions: Precise measurements in physics, biology, and more.
Forensic Analysis: Reliable weighing for evidence and substances.
Food and Beverage Industry: Ensuring ingredient dosage and regulatory compliance.
Jewellery and Gemmology: Accurate weighing of gemstones and precious metals.
Academic Laboratories: Essential for experiments and sample analysis.
Research and Development: Precise weighing for experimentation and formulation.
Analytical balance specifications and features:
Weighing Capacity: Several grams to kilograms for a wide range of applications.
Readability: High precision down to micrograms or nanograms.
Sensitivity: Sensitive sensors for accurate and reliable results.
Calibration Options: Internal and external calibration for accuracy maintenance.
Weighing Units: Support for grams, milligrams, carats, ounces, etc.
Taring Function: Subtract container weight for precise sample measurement.
Stability and Response Time: Quick response and excellent stability.
Data Connectivity: USB or RS232 interfaces for seamless data transfer.
Built-in Software: Advanced functions like statistics and density determination.
Anti-static and Draft Shield: Minimize interference and protect samples.
Touchscreen Display: User-friendly interface for easy navigation.
Leveling and Calibration Alerts: Indicators for balance setup and calibration prompts.